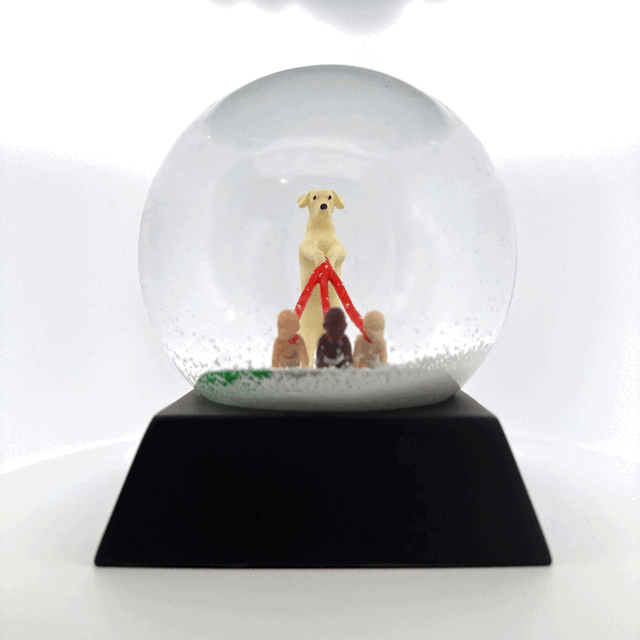 Dog Launches Baby-Walking Business, Confusing Everyone
Mr. Chips, a friendly Labrador Retriever from the suburbs of Westchester County, NY, has started a new business venture that has everyone scratching their heads. The enterprising pooch has begun walking babies on leashes, drawing both amusement and befuddlement from onlookers.
"I just love the little ones," said Mr. Chips, who, in between brisk walks with his tiny charges, was quick to wag his tail and give sloppy kisses to anyone who would receive them. "I've always had a gentle touch, and my instincts are just perfect for guiding these little guys and gals to wherever they need to go."
Despite initial skepticism from parents, Mr. Chips' baby-walking business has quickly taken off, with numerous families lining up to secure the services of the gentle giant. Parents rave about the peaceful strolls and the smiles their little ones are able to enjoy, all while being securely held by Mr. Chips' strong leash.
Some onlookers have expressed concern about the safety of the arrangement, but Mr. Chips' owners insist that the pup is fully trained in obedience and that the leashes are made from sturdy, chew-proof material.
"I know it might look a little unconventional, but it's just good old-fashioned fun," said the woman, who helps run the business with her dog. "And besides, who wouldn't want to be walked by a big, friendly Labrador?"
For now, the only thing left to be seen is whether this quirky business venture will go the way of so many other canine-based startups and fade away, or if it will become the latest trend in pet-assisted baby care.
Dimensions
Materials
Globe: Mouth-blown glass | Purified Water | Glycerine | Ethylene Glycol (anti-freeze)
Sculpture & Base: Hand-cast resin | Hand Painted
Care
Even though there's a small amount of natural antifreeze (ethylene glycol) to help from turning it into an ice globe, you should still keep it above freezing temperatures. In other words, don't put it in the freezer or take it with you shopping on the tundra.
Do not leave in direct sunlight, as the magnification effect could cause a fire.
Introducing the "Dog Walker" snow globe, a charming and heartwarming piece that celebrates the unbreakable bond between dogs and their owners. The hand-painted figures inside the mouth-blown glass globe show a dog walking three human babies on a leash, representing the love and protection that dogs provide. Made from high-quality cast resin, the figures are beautifully crafted and bring the scene to life. This snow globe is the perfect gift for dog lovers and families alike and is sure to bring a smile to anyone's face. Get your hands on the "Dog Walker" snow globe and celebrate the love between dogs and their owners today!